Platen cleaning system for all automatic diecutters
Do you want to
 Reduce patching up to 60 % -  70 % = up to 50 % less set-up time for new jobs
 Reduce pressure  : from 5 % up to 35 %.
Use our cleaning system for cleaning the beam = upper and lower platen for automatic diecutters BOBST SP – BOBST SPO – BOBST Lemanic - IBERICA – WPM – WUPA – HEIDELBERG - MK - SANWA - ASAHI,  Etc...
References : one of the biggest groups producing worldwide folding boxes already ordered more then 25 systems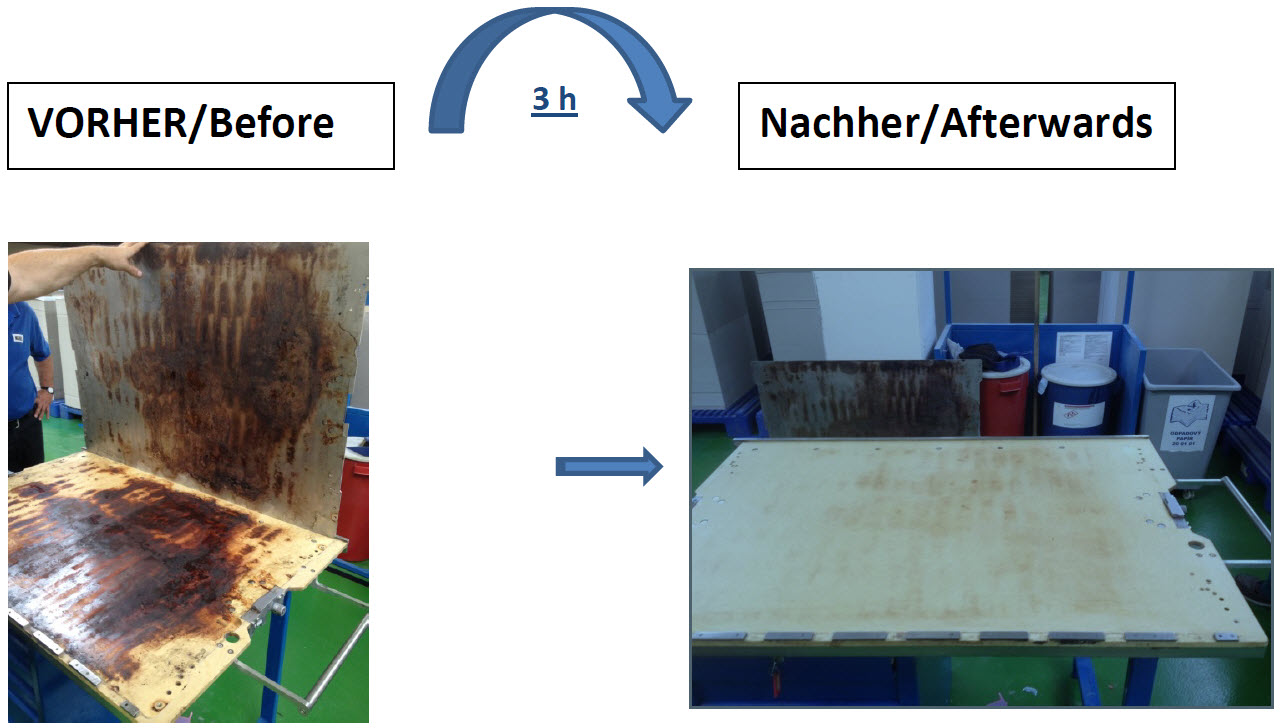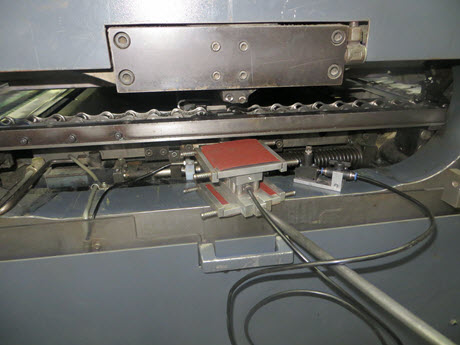 The rust molecule has a thickness of 10 times normal iron and is not stable 
It is like foam : when you press it it turns up somewhere else
Causes problems for patching with difficult jobs
Causes more and more patching and pressure intime and shortens the life time of your dies
For obtaining a continuous result you should clean the platen 2 to 4 times per year and the resocel 1 time
ADVANTAGES of our system : 
you can do it yourself without the necessity of a skilled technician : NO dismantling of the gripper chain 
faster and better cleaning : Upper and lower side is cleaned at the same time
all cleaning solvents are FOOD SAFE and HALAL with a better cleaning result
the system is very light and positionned very fast in 3 separate parts inside the machine
The pressure excerced by the pneumatical cylinder is from 1 to maximum 2,5 kg depending on the type of machine : this is comparable to the pressure you excerce with your hand on sand paper (try to rub sandpaper for 5 minutes on a steel plate and you know that it is very difficult- nearly impossible  to take off any material – just dirt and rust) .
The air pressure is preset and tested for each system - machine (so not to be changed). If the pressure would be to high then it would be impossible to move the system by hand – so again no risk for damage
To clean you move the system back and forward by hand so you can not leave it running on the same spot so no risk of damaging if you do not pay attention compared to the bobst system that is heavy and where that risk exists if you do not move it fast enough
If you do it regularly (3-4 times per year) then the cleaning can be done only with the scotch brite and then cleaning is done in +- 1 to 2 hours depending on the size of the machine.
Advantages of doing it regularly : the patching does not change in time, lower pressure,  longer life time of the dies
So in short : FASTER + NO TECHNICAL SKILLS REQUIRED + NO RISK
Preparation in a BOBST 102 CER